About 4EYES Coaching + Publications
4EYES Coaching + Publications was created by an explosive passion for roller derby. Owned by Punchy O'Guts, the mission is to share the inspirational culture of derby through coaching and publications.
About Punchy
Hello! I'm Punchy O'Guts, and I want to be your derby coach!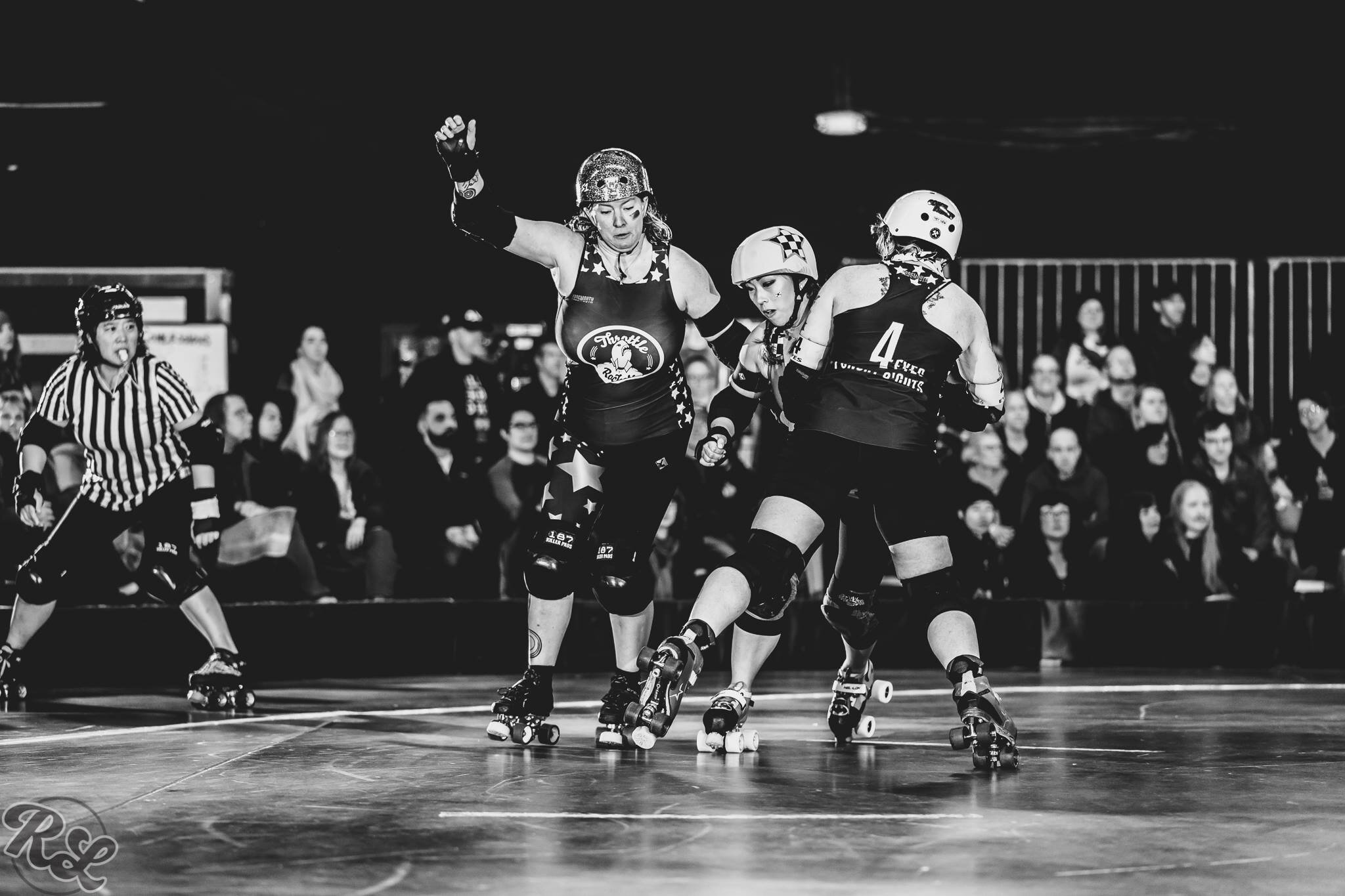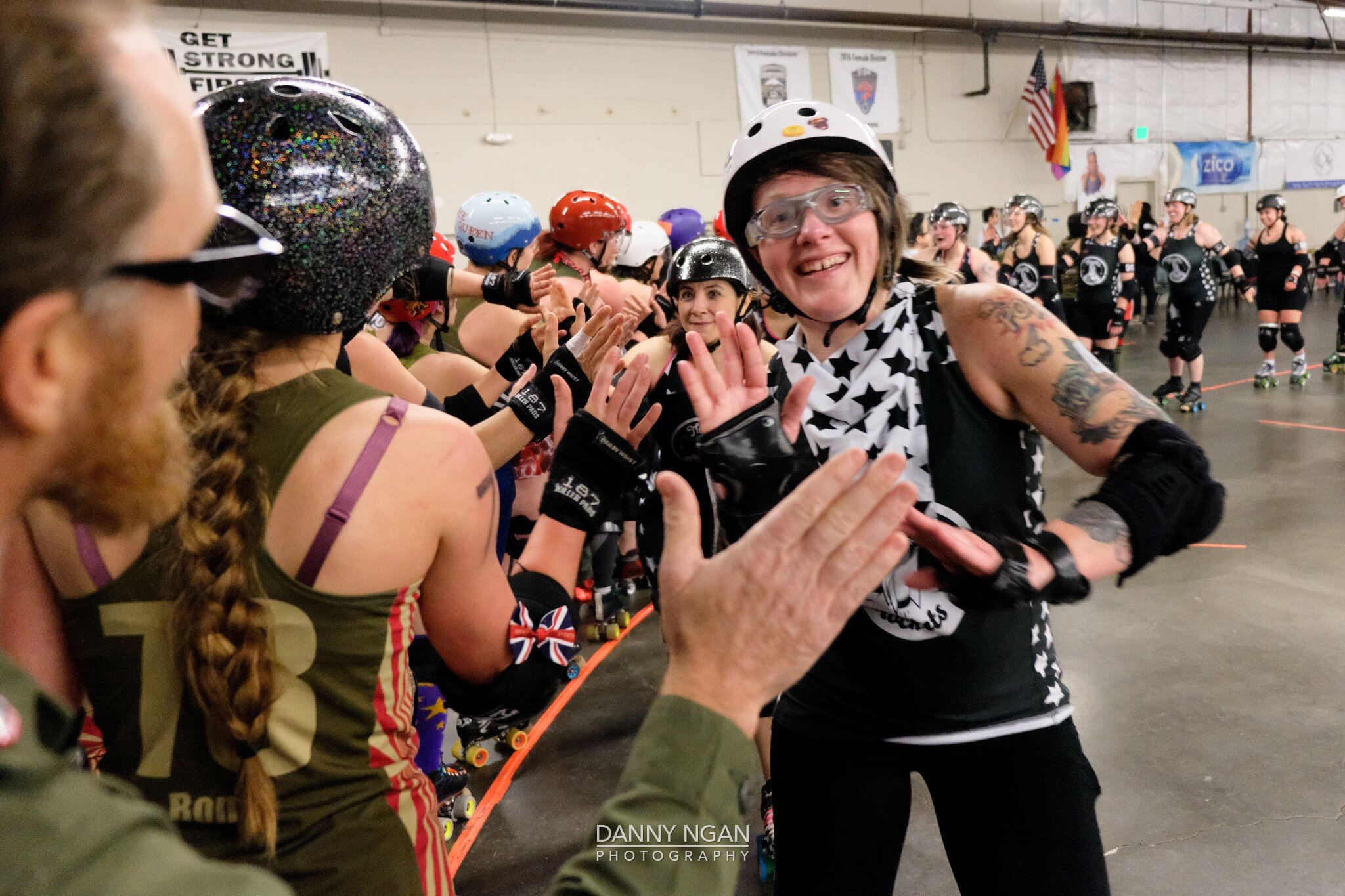 My Coaching Philosophy
I am invested in using positivity, compassion, and forward-thinking to connect with, challenge, and inspire athletes. I work with leagues and teams to develop and achieve realistic goals. This work involves three levels: analysis, planning, and action. I analyze the strengths and areas for improvement (this includes physical skill, mental skill, and leadership), develop a SMART goal plan, and work with you to put it into action. This involves an intense commitment to asking difficult questions, making tough decisions, and constantly pushing yourself and others out of their comfy place. I believe that positivity and compassion are essential in easing the growing pains, and a great coach knows how to create a learning environment where athletes are excited to try new things, feel good about their progress, and feel inspired to learn more.
My Experience
I started roller derby in 2006 with Maine Roller Derby, where I skated competitively with the WFTDA-sanctioned all-star team The Port Authorities. During my time with MRD, I worked just about every position imaginable: bout production, marketing, interleague liaison, sponsorship, webmaster, WFTDA rep, all-star team captain, member of the BoD, and the training director, so I learned a lot about running a league and all the particular challenges of keeping a small league afloat. In 2012, I left MRD to focus on professional coaching and to write derby books, while recreationally playing derby. I have had the incredible privilege of traveling all over the world and working with so many inspiring people!
I returned to competitive skating in 2014 and skated with Resurgam Roller Derby from 2014-2016 and the Fog City Rollers' WFTDA all-star team from 2014-2015. In May of 2016, I had a knee replacement surgery, and while recovering, I moved to Seattle and started skating with Rat City Roller Derby. I skated with RCRD's all-star program in 2017, have been skating on the RCRD home team, the Throttle Rockets, and I also skate for Grunge City Rollers and Queer Squad, both are all gender leagues.
Achievements
MVB: Grunge City Rollers vs Glitterasauras 08/11/19
MVB: Grunge City Rollers vs Church of Atom 08/10/19
MVB: Rat City Mischief vs Smokin' Laces 07/27/19
MVB: Rat City Mischief vs Margarita Villians 07/27/19
MVB: Queer Squad vs Anarchy Angels 05/31/19
MVB: Throttle Rockets vs Grave Danger 02/16/19
MVB: Throttle Rockets vs Grave Danger 12/08/18
MVB: Rat City Mashup vs Queer Squad 7/21/18
Roller Derby Elite Sponsorship 2015-present
MVP: Port Authorities vs Boston Massacre 6/16/12
MVP: Port Authorities vs Atlanta Rollergirls 2/18/12
Wicked Smaht Skater 2011 (MRD Skater Award)
Highest +/- as Pivot: 354 (2011 stats award)
Most Shutouts: 192 (2011 stats award)
Most Shutouts as Pivot: 123 (2011 stats award)
Most Shutouts in a Bout: 21 (2011 stats award)
MVP: Thanks for Giving Charity Bout Nov 2011 (intra-league)
WFTDA Skater of the Month June 2011
Most Shutouts in Wicked vs Good III (2010 stats award)
Hardest Hits 2010 (MRD Skater Award)
Most Feared 2010 (MRD Skater Award)
MVP: Port Authorities vs CT Stepford Sabotage 8/28/10
MVP: Port Authorities vs BDD's Wicked Pissah's 8/14/10
MVP: Port Authorities vs Harrisburg 4/25/10
MVP: Calamity Janes vs Rochester 9/26/09
MVP: Port Authorities vs Philly Liberty Belles 6/13/09
MVP: Port Authorities vs Charm City 3/22/09
MVP: Wicked vs Good Intra-league bout 10/11/08
Hardest Hits 2008 (MRD Skater Award)
Most Feared 2008 (MRD Skater Award)
MRD Skater of the Month Sept 2007